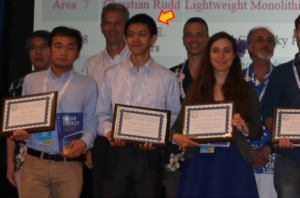 Congratulations to our student Hung-Ling for the Best Student Paper Award for Area 1 at the 7th World Conference on Photovoltaic Energy Conversion for his work:
"19.9% efficient ultrathin GaAs solar cells with nanostructured back mirror formulti-resonant absorption and enhanced luminescence extraction"
About the Award
This Best Student Paper Award recognizes outstanding work by students in each technical area. In addition to judging the technical content of the student's work, oral presentations and the student's role in the work are assessed. One "Best Student Paper Award" is given out for each technical area of the WCPEC-7.